On Monday in Stanton County District Court, Seth Gatewood, 29, of Oakland was sentenced to a total of four years in prison following his conviction of two counts of felony theft. Gatewood was arrested last summer in Stanton by the Stanton County Sheriff's office in Stanton following the investigation into thefts of catalytic converters and fuel from several vehicles in Stanton. A co-defendant in the thefts is awaiting sentencing and four others have already been sentenced on drug related charges after a search warrant was served by the Sheriff's office at residence on Hickory Street in connection to the thefts.
Also sentenced to a prison term a total of 7 to 11 years in prison was Adam Reese, 35, of Stanton. Reese was sentenced to 3 to 6 years each on two counts of Child Abuse and 1 year for Third Degree Sexual Assault. All three sentences are to be served consecutively. Reese was arrested by the Sheriff's office following an investigation into alleged sexual assaults that came forward in 2020 and occurred sometime between 1997 and 2000 in Stanton. The case was brought by the Nebraska Attorney Generals office and charges filed against Reese following a review of information and reports prepared by the Sheriff's office. As part of a plea agreement, Reese entered No-Contest pleas to the above charges in exchange for dropping of more serious sexual assault charges. Reese had been out of custody on a cash bond until todays proceedings. Reese was also ordered to register as a sex offender upon release.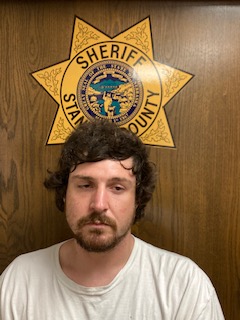 In other cases of interest in District Court, Kelsey Gray, 29, of Norfolk pled guilty to charges of Possession of Cocaine, and Possession of Marijuana along with a speeding infraction and she will be sentenced in March. She was arrested last year by the Sheriff's office following a traffic stop and found in possession of the illegal drugs.
Also entering a guilty plea to drug charges was Richard Brachle, 26, of Randolph. He was arrested last September by the Sheriff's office following a series of controlled buys of marijuana at a Stanton residence. Brachle and a co-defendant were arrested on multiple counts of delivery and as part of a plea agreement, Brachle entered the plea to one felony count of Delivery of a Controlled Substance that is punishable by up to 25 years in prison. He will also be sentenced in March.