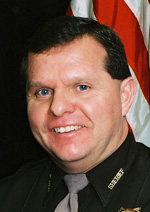 Sheriff Michael S. Unger +
Serving since 1987
About the Sheriff
DEPUTY ROSTER AS OF AUGUST 15, 2022 + EMT Trained/Certified
Chief Deputy Aaron Kleensang + (9533)
Sergeant Michael Petersen (9534)
Sergeant Tyler Evans (9536)
Senior Deputy Joshua Bennett + (9532)
Deputy Sheriff Cody Lanagan + (9537)
Deputy Sheriff Eric Stone (9538)
Deputy Sheriff Gannon Tighe (95312)
Deputy Sheriff Travis Herbolsheimer (9535)
Deputy Sheriff Matt Gartner *+ (95313)
Deputy Sheriff Jeremy Goeken* + (9531)
Office Staff
Loree Zach
Jan Meyer *
* Part-Time
Stanton County Sheriff Employment Application
ENDORSEMENT OF STANTON COUNTY SHERIFF MIKE UNGER
I wish it to be known as a retired Stanton County Sheriff and lifelong Stanton County resident that I fully endorse Sheriff Mike Unger in his efforts and the great job he has done as Stanton County Sheriff since succeeding me in 1993. Mike has grown into the job and shown he is a strong and knowledgeable law enforcement officer and leader in this community.
Mike has made it his life to serve this county often making difficult and unpopular decisions that have led to all of us being safer and well protected. I know that Mike is someone that we can always count on no matter the hour or situation and he usually is the first one to show up when someone is in need. He has always treated everyone fairly with the goal of treating everyone, no matter who the same.
I won't always be here to let people know how much I support Sheriff Unger and his office. I therefore proudly authorize this endorsement to be used now and anytime in the future after this date. We are lucky to have someone as dedicated as Mike serving all of us.
Respectfully,
Norman S. Lehman
Stanton County Sheriff-Retired
Dated this 22nd Day of January, 2015
Sheriff Lehman sadly passed away in October of 2017.